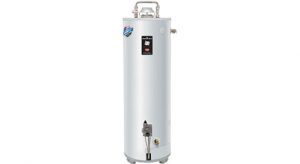 High Performance (Hybrid) Water heaters combine the best features of tankless water heaters with the benefits of a water heater tank:
A high output burner system provides plenty of hot water to meet almost any need
A small, heavily insulated tank ensures a ready supply of hot water right when you need it
Lower upfront cost than a tankless water heater
Low operating costs
Fits in the same space as most conventional water heater tanks
Typically does not require new gas piping, electrical service, or gas meter upgrades
Even works during a power outage (excluding power vent models)
This Energy Saver series water heater provides incredible hot water delivery from a space saving, convenient package, and features:
155 to 200 gallons of hot water in the first hour – enough hot water for garden tubs and body sprays in addition to whole house duty
High recovery of up to 86 gallons per hour for ongoing hot water needs
Integrated Mixing Device ensures a comfortable outlet temperature while providing a steady flow of hot water
Up to 2″ of non-CFC foam insulation provides 82% thermal efficiency for great energy savings
Fully automatic controls with temperature selection at your fingertips and built-in cut-off to prevent abnormally high water temperature for extra safety
Factory installed Hydrojet 2 Total Performance System helps prevent sediment buildup in tank
Vitraglas® lining protects tank from the corrosive effects of hot water with an exclusive ceramic porcelain-like coating
Two Protective Magnesium Anode Rods – provide added protection against corrosion for long trouble-free service
Available in Natural Gas or Propane models
Works even in a power outage (excluding power-vent models)
You can even install an optional recirculating pump (not recommended for tankless water heaters) to speed up delivery of hot water, saving you water and wait time!
While Hybrid water heaters are a great option, they are not right for every application. They can have different venting requirements than standard tanks, and care must be taken to ensure proper sizing of water lines. To find the best solution for your hot water needs, contact us today for a no-obligation consultation.
Click here to view our fact sheet