Water Heater Repair, Installation, and Services
BelRed is excited to provide tankless water heater services! Tankless water heaters are environmentally-friendly solutions, using new technology that wastes far less energy and money. Get hot water on demand, and lower your energy bills. Learn more about the differences between tank and tankless water heaters:
From conventional tank heaters to new hybrid, heat pump and on-demand tankless models, we sell, install and service a wide variety of water heaters.
Most people don't think about their hot water until they have a problem. Are you tired of:
Cold showers?
High utility bills?
Has your water heater tank failed or are you without hot water?
BelRed is here to help with a range of reliable and efficient domestic hot water heater solutions to meet your needs. We provide:
Fast solutions – same-day or next-day installations available in most cases
Guaranteed reliability – with up to 10-year parts warranties, and 5-year labor warranties on ALL water heaters
Peace of mind with permitted work when required – to ensure your system will meet all local codes, plus inspection by a third party
Safe operation – all work is done to code, with proper earthquake strapping, expansion tanks, pressure relief valves, stands, and scald protection with thermostatic mixing valves installed on all tanks
Money-saving green options – high efficiency tanks and tankless water heaters.
Water Heater Installation
Not all hot water tank installations are created equal. BelRed provides exceptional value with high-quality residential water tanks, installed properly to provide you with years of reliable, safe service.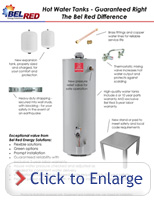 We offer a range of high-quality gas and electric State hot water heaters and Bradford White hot water heaters to meet most needs, including:
Lower upfront costs with standard efficiency hot water tanks
Fast recovery, producing more hot water with high-output water heaters
Energy savings with high-efficiency hot water tanks
Flexible installations with short tanks, direct vent, power vent, and power direct vent tanks
There are few things in your home more important than having safe, reliable hot water. Don't trust the installation of your new tank to just anyone. Call BelRed today to learn more about your options, and to see what type of tank is right to meet your needs.
Water Heater Repair
BelRed's highly trained technicians are experts at delivering superb service and making sure every repair is done right. Each BelRed tech receives hundreds of hours of classroom and field training every year to stay up to date on new equipment, including uthe latest technologies in water heaters.
We'll troubleshoot and completely diagnose your issue and provide a detailed cost estimate prior to doing any work. Our technician(s) will then complete the repair, and gladly explain exactly the services that have been provided.
BelRed repairs all kinds of heat pumps – including traditional tank systems, as well as the newer tankless models and hybrid.
Safety and Comfort Upgrades
A hot water tank failure can be devastating. Even if you have a newer tank, many hot water tanks were installed without safety devices required by code to protect you and your home.
Many people also find that their current tank does not provide enough hot water, or that they have a seemingly endless wait for hot water to reach their faucet or shower.
BelRed is here to help with a variety of options to increase the safety and comfort of your existing hot water system including:
Expansion tanks – properly sized, pressurized and installed for your peace of mind
Pressure relief valves – correctly  installed to protect you and your home
Earthquake straps – Heavy-duty metal straps fastened into studs with blocking added behind the tank to minimize damage in an earthquake
Thermostatic mixing valves – protect against scalding AND extend the hot water output of your tank by 25 – 50%
Recirculating pumps – provide hot water FASTER to even the furthest outlet in your home
Whatever your plumbing needs, BelRed has a solution. Our expert plumbers are on hand to assist with maintenance, service, and repair, or install water heaters and other fixtures.