Giving Back to Help our Region Move Ahead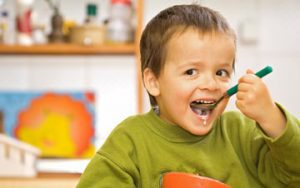 From corporate partnerships and giving programs to the volunteer efforts of our team members in the community, BelRed and our people are committed to doing our part to make the Pacific Northwest a better place to live and work.
Feeding Hope
BelRed partners with local food banks, affiliated with Food Lifeline, to provide a hand-up to the hungry in our community. For every donation of non-perishable food items we receive from our customers, we donate $1 to local food banks.
Food Lifeline is Washington's largest hunger relief agency, distributing food to more than a half-million people at 300 neighborhood food banks, shelters and hot meal programs throughout western Washington. 38% of these people are children and 13% are seniors. One of the reasons we support this worthy cause is because of the efficiency of their operation:
Only 5% of every financial donation to Food Lifeline is used for administrative costs
For every $1 donated, Food Lifeline provides 5 meals to hungry people
Many of their programs are unique to the Pacific Northwest and include relationships with farmers, grocers and restaurants
We donate one dollar to local food banks for each donation of non-perishable food items from our customers. The work that they do is especially important in these difficult financial times when families must work even harder to get by, and often struggle to keep food on the table.
We're proud to be partners with an organization that is so effective at helping people in the communities we serve. Please make a donation of non-perishable food items today, and we'll match your donation with a $1 cash contribution. With your help, we can make the lives of those who are struggling with hunger a little bit better, and make a real difference to people who need help in these tough times.
Funding Aspirations
In the summer of 2017, BelRed supported the Mukilteo Police Department in their efforts to raise $2,017 for the Special Olympics Washington. Together, with our incredible community, we were able to exceed the police department's monetary goal, making it possible for our 17,000 special athletes to compete in the Special Olympics sports and programming across Washington State. We'd like to thank everyone who helped us make an impact on the lives of these inspiring individuals. With your support, we're one step closer to ensuring that no athletes are left on the sidelines.
In September of 2017, BelRed donated services valued at over $2,000 to the Mukilteo Boys & Girls Club 48th Annual Luau and Auction! We are proud to partner with the Mukilteo Boys & Girls Club and appreciate everything they do to help children in our community reach their full potential as productive, responsible and caring citizens.