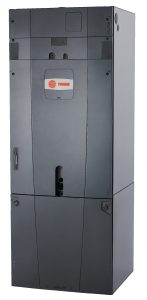 As the name implies, electric furnaces rely on electricity to keep your home heated to your specifications. Within the unit, heated electrical coils, sized based on how much power the unit requires, move air throughout your house with the help of ductwork and vents. Unlike gas-powered furnaces, electric options convert all energy into heat, making them best for climates that don't face severe winter weather or places without easy access to gas. Some of their benefits include:
Easier to maintain, thanks to fewer moving parts
Lower initial costs
No storage tanks needed
Longer lifespan than gas furnaces
Quieter operation than gas furnaces
Electric furnaces are also environmentally-friendly options as they don't give off any carbon monoxide or combustion gases.
BelRed offers several models of electric furnaces to meet your budget and comfort needs. As faulty ductwork can impact a new furnace's functioning, some of our models also allow you to add a heat pump later. This enables:
Lower up-front investment
Options for greater comfort, savings, and energy efficiency down the road
Our expert and professional HVAC technicians will provide installation, service, maintenance and product education, and answer any questions you may have.
While electric furnaces offer a wide bevy of benefits, they're not for everyone. In cold climates, using electricity as a sole heating source can become expensive. At Bel Red, we can help you determine whether it is the right option for you and how best to optimize your home's comfort, safety, and efficiency.