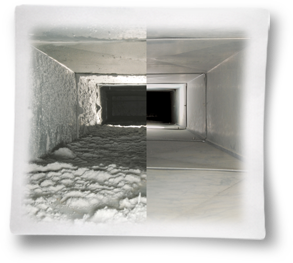 You want your home to be a safe haven for your family. Yet dirty ductwork can be a trap for mold, mildew, pet dander, smoke, pollen, and dust. With each breath you could be inhaling these pollutants, affecting you and your family's health, comfort, and safety.
Not all duct cleaning services are created equal:
Our patented HEPA-Aire

®

system uses high powered air pressure and scrubbing brushes* to loosen dirt and debris from inside your ducts, while a high-powered vacuum pulls pollutants into HEPA filtered bags, ensuring these pollutants do not re-enter your home. We also offer optional dryer vent cleaning to protect your home and safety.
We go the extra step to visually inspect exposed ductwork for leaks that may be causing dirt to build up in your duct system. If problems are found, you'll be provided with options to determine how significant they are, and to resolve them once and for all.
There are no surprises or hidden fees for our services. Our quoted prices are based on the number of vents or registers in your home, and the location of your comfort system. They include everything necessary to properly clean your duct system. Any other services we offer, like cleaning your dryer vent, are optional, and there are no high-pressure sales tactics.
We take the time to protect your home, treating it like our own:
Shoe covers are worn while in your home to protect floors
Each register is sealed, then opened one at a time to help keep your home clean
We leave your home and your air fresh and clean, so you can breathe easy again.
Contact BelRed today for more information, or to schedule a HEPA-Aire® duct cleaning service for your home.
*Brushes cannot be used on flexible ductwork.