Comfort and Safety Essentials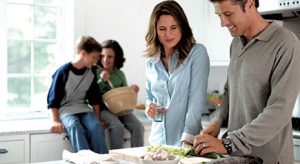 From the air you breathe to electrical problems to the safe operation of your gas appliances, there is a lot that can impact your comfort, health and safety in your home. We're doing our part to protect you and your loved ones with a range of products and services that help make your home a more comfortable, safe and healthy place to live.
Modern heating and cooling systems are more complex than ever, using advanced circuitry and computer controls to maximize comfort and efficiency, and drain systems to carry away water and condensation. BelRed recommends:
Programmable thermostats – Save up to 33% on annual heating and cooling costs compared to systems with non-programmable thermostats. We offer a variety of professionally installed, contractor-grade programmable thermostats with features to meet almost any need.
Electrical surge protection – Whole-house or in-line surge arrestors can protect your comfort system or even ALL of your sensitive and valuable electronics from damage in the event of power surges, spikes and brown-outs.
Water damage protection devices – Water sensors and shut-off devices can help minimize damage in the event of a water leak from a condensing appliance in your home, such as an air conditioner or heat pump.
Earthquake gas shut-off valves – Would you be able to turn off the gas to your house in the event of an earthquake? What if you were away from home? Give yourself peace of mind with this automatic shut-off device.
Duct-mounted smoke detectors – More people are injured or die from smoke inhalation than from fire every year. Keep your duct system from spreading smoke through your home in the event of a fire with this duct-mounted detector.
Low-level carbon monoxide monitors – Protect yourself and your loved ones from illness or death from this silent killer with a low-level CO detector from BelRed.