Your Favorite Just-in-Case Home Accessory: The Generator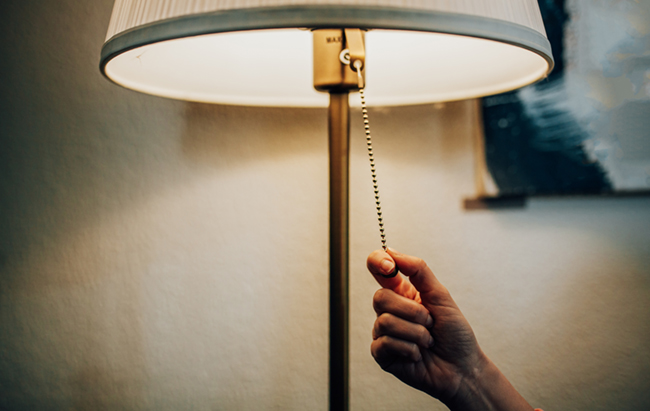 Power outages are no fun. It's not until lights begin to flicker and the power goes out from a storm that you realize losing electricity isn't just an inconvenience, it can affect home safety. Food can start to spoil. Cell phones run out of power. Furnaces and medical equipment requiring electricity won't work. Even electric-heated hot water is out of the question for cooking, cleaning or bathing. Lack of lights can be downright dangerous for elderly household members. As autumn days give way to stormy winters ahead, it's never a bad idea to have your own home generator, and BelRed Energy Solutions is here to help you navigate the options.
For some, a portable generator is sufficient enough to keep the heat and lights on, keep food from going bad, and provide a sense of comfort. It's also important to know electric generators are one of the biggest culprits when it comes to non-fire-related CO (carbon monoxide) deaths and injuries in homes. If you choose the route of a portable generator, be as safe as possible:
 

Keep electric generators a safe distance away from your house. Generators should always be kept outside at least 20 feet from any space in which people live or spend time.

 

Never place a running generator inside an enclosed space, including garages and sheds. Even if doors are open, CO from the generators can build up quickly air and cause harm, even death.

 

Make sure your CO detector is on and working. Habitually test your home's carbon monoxide detectors to be on the safe side, even when not running a generator.

 

Hire a professional electrician or contractor to set up your generator correctly and to avoid the risks of electrocution or carbon monoxide poisoning.
For those looking for something more substantial, standby generators can provide extremely fast, generous amounts of backup power without having to deal with the struggles of noisier, gas-powered portable generators (no frequent gas refills required, or muscles needed to pull-start one). Standby generators are installed outside the home in a fixed location, and turn on automatically or with a flip of a switch. Run on either natural gas or propane, based on your home's availability, any number of home standby generator models can meet the exact needs and specifications of your home.
Your BelRed standby generator installation includes:
 

Proper Sizing – We tailor your generator type to meet your household's needs.

 

Proper Location – Minimize ambient noise, wiring and gas piping expense, while ensuring your installation meets all clearance and set-back requirements.

 

Utility Coordination – We work with your utility to ensure your service and meter are adequately sized, so your system works properly.

 

Delivery and Placement – Most generators weigh more than 400 pounds. Our specialized equipment safely moves generators.

 

Inclusive Pricing – Our generator pricing includes needed components such as the starting battery, oil and filter, bench test (ensures proper operation BEFORE delivery), equipment pad and earthquake strapping (code-required to ensure gas line integrity), transfer switch, 30 feet of meter-to-generator gas piping).

 

Electrician-performed wiring and hookup – All wiring (between the generator, panel, transfer switch and meter) is completed by a

licensed electrician

.

 

Startup and Programming – We make sure it's running with a battery of tests

 

Permits – We pull all required permits, submit site plans and required equipment specifications for prompt, correctly issued permitting.

 

Factory Trained Technicians – Our technicians are factory-trained on the installation, startup and service of your generator, so you can rest easy.

 

Five-Year Labor Guarantee – You won't have any out-of-pocket repair expenses for the first 5-years, if you've contracted annual service with us for your new generator.

 

Lifetime Installation Guarantee – Your backup generator installation is done to code and manufacturer's specifications, and we guarantee our workmanship for life.
If you're considering purchasing a backup generator, we can help you run through the appliances watt/kilowatt usage in your household to make an informed decision on the best options. Give the HVAC experts at BelRed Energy Solutions a call.  We can help you keep the lights on during that next inevitable power outage.