The Case of the Aging Furnace: To Repair or Replace?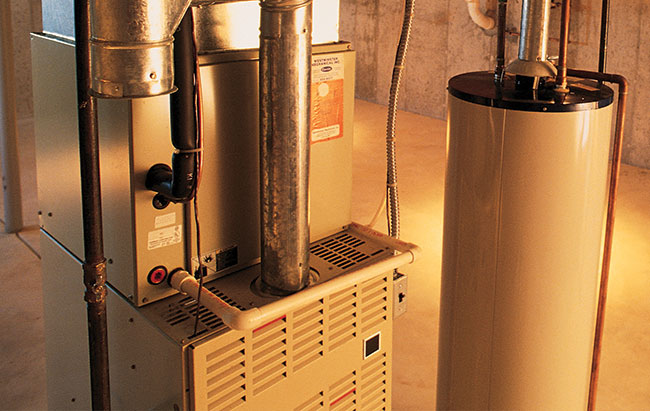 Especially in cooler climates affected by winter temperatures, a furnace is one of the most critical appliances in the home. It's also a major investment. An efficient, well-running furnace becomes a powerhouse that hums along in the background. But when it doesn't, suddenly you find yourself asking if it's worth repairing a furnace or replacing it altogether. How do you know when it's time for a new furnace?
In our previous post we explored some of the warning signs to watch for, which include age (16-20 years is the average life expectancy of a furnace); rising energy bills (jumping up over the same time last year); constant cycling (erratic or too frequent cycling calls for a professional); still feeling cold (maybe it's a thermostat, but maybe a failing furnace); and new noises, smells or extra dust.
Old furnaces can fail to moisturize and clean the air in your home. Household members may suffer from allergies, airborne dust, mold, pollen, viruses or dander while others may suffer dry noses, throats or skin. You also might not associate poor indoor air quality with an old furnace, but rooting out the cause of poor ventilation is best determined by an HVAC professional. If you recognize these signs, it might be time to consider a new furnace.
Many people weigh the options of simply making repairs to their heating systems against deciding to totally replace their units. While each case is certainly different, we thought we'd provide some helpful tips:.
Think long-term. Even if you make repairs or have them done by a professional contractor, more problems can present themselves in the future—sometimes the very near future. Notably it's the older units that crop up with needed repairs more often than you would like, and costs can pile up. It's possible that soon after these initial repairs, more repair costs could amount to close to what it would have cost to replace the system originally.

Educate yourself. Prepare yourself on next steps with a little homework. Whether repairing or replacing your heating and cooling unit, a knowledgeable, certified contractor, like BelRed Energy Solutions should be carrying out the work. Research helpful tutorials and other resources to weigh your options regarding anything related to HVAC systems.

Watch for deals.  If you're currently in the situation of deciding whether to repair or replace your old HVAC unit, we're here to help. BelRed is currently offering a one-year warranty on all system installations, and half off air purifiers with any new furnace system (which kills up to 99% of viruses in air and on surfaces), plus zero-percent interest for 60-month financing with payments as low as $83/month on new furnaces. Additionally, many of our furnaces offer attractive rebates that make purchasing this new appliance even more appealing. Ready to explore your furnace options? Contact us at BelRed today.
Let's discuss your present needs to weigh the pros and cons that will help you make an informed decision. Don't hesitate to reach out if you're interested in insights from our team at BelRed.