Seattle's Quietest Heat Pump Is Here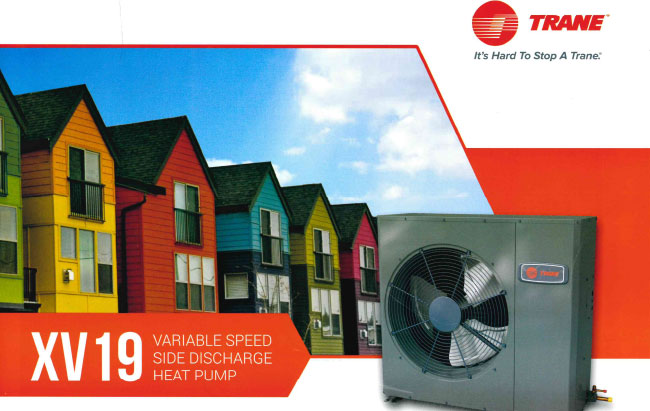 Introducing Trane's quietest, most efficient heat pump yet: the XV19 TruComfort Variable Speed Low Profile Heat Pump – one of the only pieces of residential HVAC equipment that has been approved by the city of Seattle. Committed to creating a heat pump that Seattle residents could use, Trane worked in conjunction with the city while developing the heat pump to ensure it would meet the recently passed noise ordinances.
High performance, near-silent operation, excellent reliability, and superior energy efficiency – that's what you can expect from Trane's all-new XV19 low profile heat pump. Read below for a few reasons we can't wait for this heat pump to be released to the public!
Precise Comfort
The Trane TruComfort systems give you precise comfort by running at the exact speed needed to keep your home comfortable. This allows the variable speed compressor, outdoor fan, and indoor fan to vary operating speeds as the temperature outside changes, slowing down or speeding up gradually to keep comfort within minimal degrees of the thermostat setting, sometimes as little as 1/2 degree!
Ultra-Quiet Operation
As one of the only pieces of residential HVAC equipment approved by Seattle, the XV19 is ideal for outside bedrooms, hotels, restaurants, outdoor spaces like your backyard, and more.
Efficient Performance
The XV19 Variable Speed Low Profile Heat Pump has a SEER rating up to 19.5 and HSPF up to 12, making it an excellent choice for home comfort and energy-efficiency tax credits. With Trane TruComfort technology, the system automatically adjusts itself while maintaining constant and consistent speeds to avoid temperature swings.
Unique Design
Designed with limited space in mind, this low profile heat pump will meet the needs to difficult-to-install or tight space required homes such as condominiums, apartments, townhomes, and more.
Have more questions? Check out this FAQ sheet or informational video from Trane.
BelRed Energy Solutions' HVAC experts are trained and ready to install your new XV19 TruComfort Variable Speed Low Profile Heat Pump. At BelRed, we help you achieve the best energy savings and our technicians specialize in heating and cooling repair, air conditioning installation, heat pump repair, and more. Contact us today!