Ceiling Fans: Winter's Unsung Hero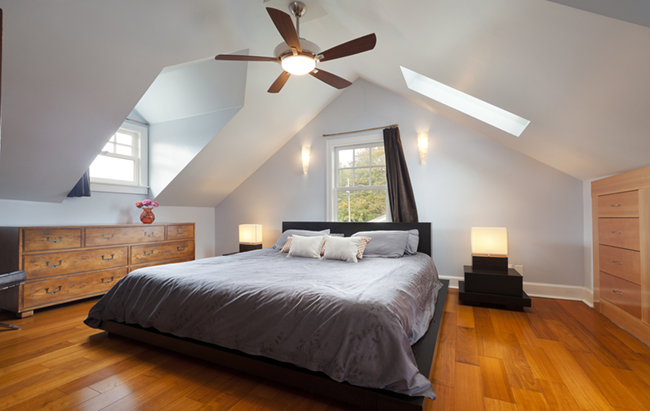 In bedrooms and shared living spaces such as kitchens and great rooms, ceiling fans are unsung heroes of the household when it comes to subtle ventilation needs any time of year.  If you already have ceiling fans in your home and aren't using them in the winter, you may be losing out on a big energy efficiency opportunity. Consider that many Pacific Northwest homes have large, open concepts, loft areas, cathedral ceilings or steeply-trussed great rooms. These airy spaces are also notorious for holding heat at their highest heights, unless the right ventilation is working to properly exchange the air. This is where ceiling fans can really benefit the homeowner.
Reverse Ceiling Fan Direction in Winter
Switching your fan setting from counter-clockwise to a clockwise spin will help push hot air that rises to the ceiling back down in the winter. Though not commonly known, many ceiling fan models have switches built in to reverse the direction of the blades as they spin. While fans are historically only thought of for cooling, ceiling fans running in reverse can push warmer air that has risen to the top of the room back down into air circulation, lowering the requirement for additional heat. This will create better airflow and greater warm air circulation and help your home heating system work a little less.
Consider a Heat Load Analysis
Sometimes a ceiling fan installation is all that is needed to balance a home's heating (or cooling) needs, and a heat load analysis can help. This method calculates how much heating and cooling a home needs to stay comfortably cool in the summer and warm and cozy in the winter. It determines what size HVAC system a home needs and associated costs. This information will help you live more comfortably in the most energy efficient and cost-effective way. For example, not only will an overpowered HVAC system run higher in cost to operate, it will result in overly humid air, making your home's environment very uncomfortable. At BelRed, we advocate for energy-saving home comfort systems that are scaled to each home's unique nuances.
Everyone wants a home that's sheltered from outdoor elements, and you can reduce your home's heat load by knowing what you're working through a Heat Load Analysis. Once known, our team of HVAC service experts can point out action steps, from measure such as installing a ceiling fan, or improvements affecting your chimney, furnace flues, exhaust fans, ceilings, ducts and floors, to name a few.
Call the HVAC Experts
Despite ceiling fans having common features, these are heavy items that can involve lengthy and complex installations. Save trouble and stress by having them reliably installed by bonded, licensed electricians who are experienced in these kinds of jobs. Now through Oct. 31, BelRed members save 15% off ceiling fan installation, so take advantage and give us a call today.