BelRed Launches New Website
If you're here, you've probably noticed a bit of a different look for BelRed.com. Last week, we were excited to release a new website redesign with the aim of making it easier than ever for our customers and community to find the products, services and knowledge you've grown accustomed to finding on our site.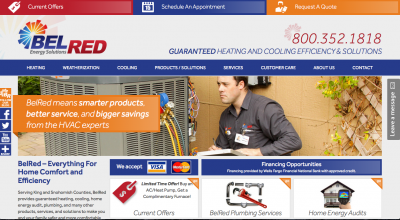 The redesign has made getting current offers and discounts, scheduling an appointment and requesting a quote faster and easier than ever. You can quickly read customer testimonials to see what others think of our professional and courteous work. We've also reorganized our products and services into handy blocks on the homepage to make navigation a breeze.
As always, we'd love to hear from you and hope communication and contact will be simple and smooth with on the new website.
Contact us today with any questions, comments or requests here. As always, thanks for being a part of the BelRed community, where we always put customer care and convenience first.