Standard-Efficiency Furnaces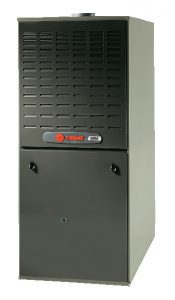 Operating at 80% efficiency, our standard-efficiency furnaces provide exceptional comfort and reliable operation at a lower initial cost than our high-efficiency units.
The United States Federal Trade Commission requires new furnaces to display their annual fuel utilization efficiency (AFUE), or how much fuel becomes energy. Unfortunately, many older models may not show this number, meaning owners may not be aware of how much energy is being lost and how hard the furnace is working to meet their needs. Not only does this risk the furnace failing unexpectedly, but it's a drain on both the environment and the heating bill.
Our standard-efficiency furnaces use traditional double-walled metal exhaust venting to ensure efficiency, comfort and reliability. Proper care must still be taken to size and install furnaces — our expert team will install your new model and answer any questions you might have.
As with all of our products and services, our HVAC technicians are on hand to assist you with furnace repair and maintenance. Contact BelRed today to learn more.