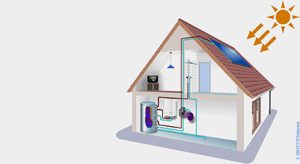 Solar hot water heaters offer one of the most environmentally friendly options for heating domestic hot water. By using the energy from the sun to preheat water, you can dramatically reduce your carbon footprint AND save a substantial amount of the energy used to heat water for your home.
Solar panels mounted to your home provide the energy to preheat water in a specialized tank, installed alongside a standard hot water tank. This reduces the amount of gas, propane or electricity needed to fully heat your hot water.
While the installation of a solar hot water heater can require a substantial investment, the additional costs are typically returned to you in savings over the life of the equipment. Beyond the savings you can see on your utility bills, you can often save even more with:
Federal tax credits of 30% (with no cap)
Utility rebate programs
Proper site evaluation is crucial for solar installations, and BelRed offers a Solar Site Evaluation that includes a detailed report on your home's solar energy window, solar efficiency, potential energy savings and CO2 reduction. To schedule a Solar Site Evaluation, or for more information on solar hot water systems, contact us today.