Save Energy (and Money!) with the Nest Learning Thermostat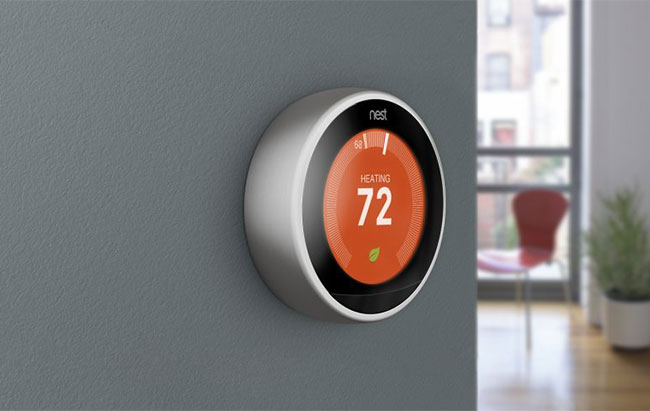 Learn to love your thermostat with Nest! We're excited to introduce the new, one-of-a-kind Nest Learning Thermostat with technology capable of learning what temperatures you like, turning itself down when you're away, connecting to your phone and more. Plus, it's proven to save energy and help you save big on your utility bills. Read on to learn about some of the exciting features the Nest Thermostat offers.
Auto-Schedule. No more confusing programming. The Nest Thermostat learns the temperatures you like and programs itself.
Home/Away Assist. This thermostat automatically turns itself down when you're away to avoid heating or cooling an empty home.
Remote Control. Connect your Nest Thermostat to Wi-Fi to easily change the temperature from your phone, tablet or laptop.
Energy History. See exactly when your heating and cooling were on and what contributed to your energy use.
Nest Leaf. You'll see a leaf image on your thermostat when you choose a temperature that saves energy. This will guide you in the right direction to save both energy and money.
Safety Temperature Alerts. Get an alert on your phone or tablet if your home gets dangerously hot or cold.
Early-On. Nest learns how your home warms up and keeps an eye on the weather to get you the temperature you want when you want it.
When the Nest Thermostat spots you across the room, it lights up beautifully to show you the time, temperature or weather.
Starting this month, we're offering two Nest Thermostat specials to help you save even more. Now, you can purchase a Nest Learning Thermostat and installation for just $499 OR receive a FREE Nest Learning Thermostat with qualified purchases. Contact us today to learn more!
We are proud to provide the Nest Learning Thermostat to our customers because we know how important their time, energy and money are. Do you have questions about our Nest Thermostat specials? The experts at BelRed are here to help! We specialize in heating and cooling repair, heat pump installation, and more!