High Efficiency Furnace Installation – Woodinville, WA
Congratulations to Lyle Gardner, Dan Pugh and Braxton Tacbian, our installation of the week winners for the week of May 7th. Lyle, Braxton and Dan installed a Trane XC95m high efficiency furnace, and a CleanEffects whole home filtration system at the Hamm residence in Woodinville.
The existing furnace that BelRed installed in 1996 was found to have cracked heat exchangers during a scheduled maintenance service. this is a dangerous condition which can result in exhaust fumes enetering the air stream in the home. Choosing not to repair their 16 year old furnace, the Hamm's selected to install a new Trane XC95m high efficiency furnace.
This new furnace modulates its heat output to match the heating needs of the house, regardless of how mild or cold it is outside, providing exceptional comfort. Combined with its high efficiency heat exchangers and variable speed blower motor, this is one of the most efficient furnaces available today. The Hamms also selected a Trane CleanEffects, the most effective whole home filtration system available.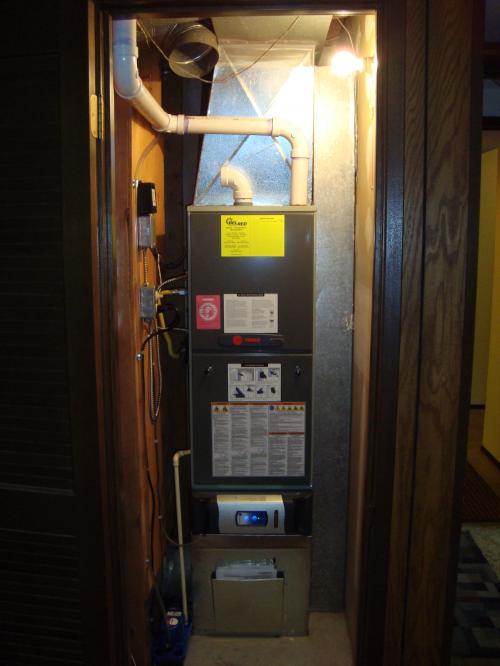 Our installation team installed a new base can and plenum, sealing both to provide maximum comfort and efficiency. Unable to run both an exhaust vent and a separate combustion air intake line, they installed a single pipe exhaust system. Condensation was routed out of the home using a pump connected to an outdoor french drain. Our Final Touch Technician finished the installation by capping the old metal flue pipe during the commissioning process for the new furnace.
Tags:
Heating