Darrick Philp Employee Spotlight
At BelRed Energy Solutions, we pride ourselves on our wonderful team. We place an extremely heavy emphasis on education and training for our employees because the more our staff knows, the better off our customers will be. We also love when our staff receives recognition and honors for their hard work and dedication not only to the company, but also the craft they live and breathe on a daily basis.
One such employee that we are very proud of is Darrick Philp. Darrick is our Service Manager here at BelRed and leads our team of excellent Service Technicians. He started with BelRed over 14 years ago as a Service Technician and has brought great skill, knowledge, friendliness and care to our other staff members and our customers.
Recently, Darrick received a distinct honor from Trane, one of the leading manufacturers and product providers in the heating and cooling industry. He was selected to Trane's Next Generation Furnace Dealer Council, which brings some of the brightest minds in the industry together to give input on future product lines for the company.
This council group provides hands-on insights into important design features, recommendations and improvements to help Trane ensure they are providing the best quality products for contractors and homeowners. This group worked hard and well together and sent the Trane product teams back to the drawing board on a number of occasions when they insisted something could be done even a little bit better.
We're proud to say that Darrick was one of twelve HVAC service experts to be chosen out of hundreds of nominations! You can see the full group below: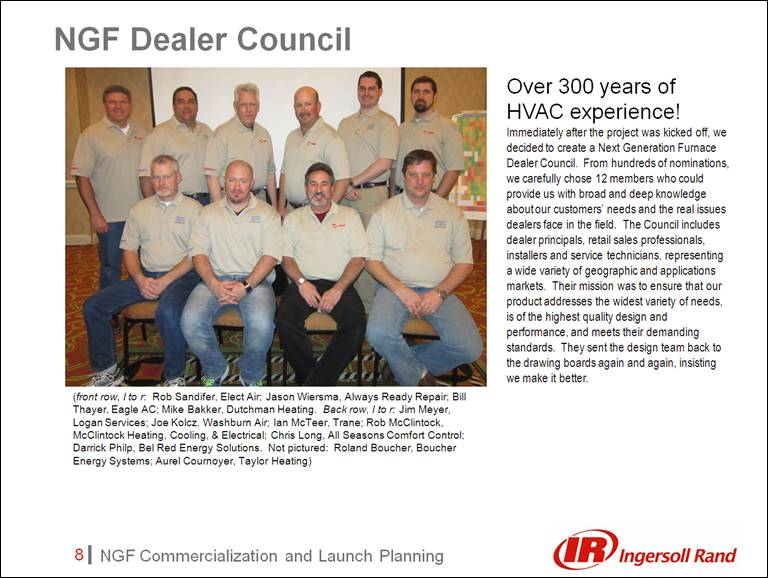 Darrick his an extremely valuable employee and has received many technical certifications and recognitions during his tenure here at BelRed, including:
· North American Technical Excellence (NATE) Certification
· IGSHPA Certification
· WA State Electrical Administrator's License
· WA State Low Voltage Electrical License
· EPA Universal Refrigerant Certification
Please join us in congratulating Darrick on this great achievement!
Tags:
BelRed
,
HVAC certification
,
NATE certification
,
Trane
,
Trane Next Generation Furnace Dealer Council