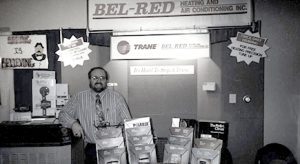 After working in the industry for years, Don Millard founded Bel-Red Heating and Air Conditioning in 1986 with the idea that he could provide better service to customers by doing it himself. While Don no longer services customers personally, this year BelRed Energy Solutions celebrates our 25th anniversary in business, and we continue to be successful by providing great service to our customers!
How do we achieve the kind of success where most of our business growth comes from referrals from satisfied customers? By:
Hiring the best staff
Providing our people with ongoing, exceptional training and the tools to succeed
Delivering an unmatched level of customer service
Offering superior solutions, in terms of performance and return on investment, to homeowner needs
What started as a small service business has turned into one of the largest residential service and replacement businesses in western Washington. We've expanded our business to include plumbing, electrical, geothermal and solar systems, plus a whole range of products that weren't even available when Don started this business.
25+ years in business – a quarter century of putting the customer first and delivering the best products and service.
We've also moved into Whole Home Performance Contracting, providing home energy audits and weatherization services through our BelRed Home Energy subsidiary. But in the end, our success is still predicated on a commitment to provide the highest possible level of service to customers while offering them the best available solutions to meet their needs.
BelRed's legacy of innovation
We were one of the first residential heating and cooling companies in the Pacific Northwest to:
Offer high-efficiency furnaces
Move exclusively to environmentally-friendly R-410A refrigerant
Pioneer the use of hybrid gas/electric heating and cooling systems
Offer earthquake shut-off gas valves, after the damage caused by the quake in Kobe, Japan
Provide in-line surge arrestors to prevent damage to circuit boards from power fluctuations
Provide financing options for customers with approved credit
Now we're one of the first to offer Home Energy and Safety Assessments – along with weatherization services to provide complete heating, cooling and home energy solutions.